Equine Association Establishes MSU Scholarship Endowment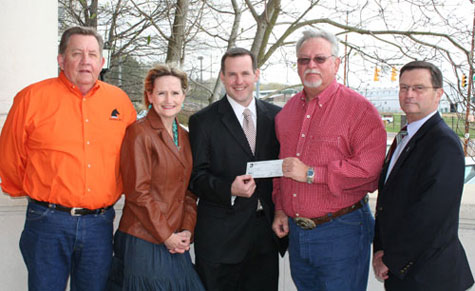 Pictured (left to right): James Watts, MSEA Executive Director; Cindy Hyde-Smith, Commissioner of Agriculture; Jud Skelton, Director of Development for CALS; and James Raspberry, MSEA President.
The Mississippi State Equine Association is fulfilling a vision to further equine education by establishing a scholarship endowment at Mississippi State.
Since 2006, MSEA officials have worked to create the Mississippi State Equine Association Endowed Scholarship to encourage beneficial equine practices. Based in the university's College of Agriculture and Life Sciences, the leadership and academic recognition award will assist animal science majors who are pursuing pre-veterinary studies.
The organization's endowment contribution recently was presented in honor of Terry E. Kiser, retiring head of the animal and dairy sciences department. Kiser, who joined the MSU faculty in 1997, officially concludes his duties Aug. 31.
"We are pleased to honor the professional contributions Dr. Kiser has made to Mississippi State and the equine industry by presenting him with this gift," said James Rasberry of Kosciusko, MSEA president. "He has been a genuine friend to our organization for a number of years."
James H. Watts of Brandon, MSEA executive director, said, "Our association makes worthwhile contributions and sponsors many beneficial programs for deserving Mississippi equestrians, and we are proud to use our resources wisely in keeping with our motto of 'for the love of horses and horse people.'"
"A public university scholarship endowment at one of the nation's finest agricultural and veterinary institutions is one of our greatest achievements," Watts added.
An affiliate of the Washington, D.C.-based American Horse Council, MSEA is a statewide network of horse owners dedicated to improving the quality of life for state equine and horsemen through education and information programs. The organization works closely with Mississippi colleges and universities, as well as county boards of supervisors.
Future recipients of the scholarship must be enrolled MSU seniors with demonstrated leadership abilities. In addition to being Magnolia State residents, they must hold a minimum 3.0 grade-point average (based on 4.0 scale).
"The MSEA has previously provided annual scholarship support for MSU, and we are pleased that they have chosen to take the next step in creating this endowment that will assist our aspiring future veterinary professionals," said Jud Skelton, the college's director of development.
One of MSU's oldest academic units, the College of Agriculture and Life Sciences offers 16 academic majors and 33 concentrations for undergraduate degrees; 10 majors and 30 concentrations for graduate degrees. (For more, visit www.cals.msstate.edu/.)
The Mississippi State Equine Association Endowed Scholarship fund may benefit from additional contributions. Contact Skelton at 662-325-0643 or jskelton@foundation.msstate.edu for more information, or to make an online contribution at https://www.msufoundation.com/s/811/foundation/start.aspx.
Additional information on the Mississippi State Equine Association is available at www.mssaddleup.org, as well as details on a special "Saddle Up" license plate.