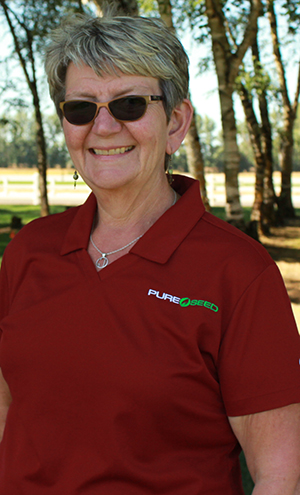 Dr. Melodee Fraser
Dr. Melodee Fraser (bachelor of science and Master of Science Turfgrass Management, 1985, 1987) is the director of research for the eastern division of Pure-Seed Testing, Inc.
Dr. Fraser grew up on a golf course in southern Indiana, where her father was superintendent. After summers spent working on the course and playing golf, a desire to become a golf course superintendent and play the sport led Dr. Fraser to MSU, where she was a member of the women's golf team from 1981-83. She became the first woman to graduate from MSU's turfgrass management program. After finishing her master's in the same program, she earned a Ph.D. in turfgrass breeding from Rutgers University in 1991. Upon graduation, Dr. Fraser was hired to start a new research facility for Pure-Seed Testing, Inc.
An Oregon-based leader in cool-season turfgrass breeding, PST sought a full-time breeder at a site in the transition zone, in order to improve cool-season turfgrasses for persistence in warm-humid climates and develop warm-season turfgrass turf cultivars. Dr. Fraser established the research farm in Rolesville, North Carolina, where her primary responsibility has been the development of tall fescue cultivars with improved summer disease resistance and heat tolerance. Secondary research responsibilities are developing seeded bermudagrass and zoysiagrass cultivars. MSU turfgrass breeders have conducted several warm-season turf evaluation trials with Dr. Fraser. She loves returning to campus to visit.
Dr. Fraser and her husband reside near Rolesville. Their son attends North Carolina State University and their daughter is at Meredith College.