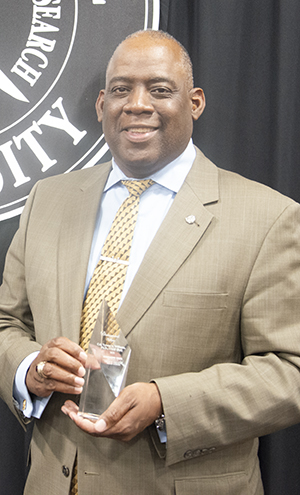 Tyrone A. Williams
Colonel Tyrone A. Williams (bachelor of Science in Agricultural Engineering Technology and Business 1988) is the department head for the Raymond High School Air Force Junior Reserve Officer Training Corps.
Prior to that, Colonel Williams served as maintenance operations squadron commander for the Mississippi Air National Guard. He has commanded the Air National Guard's first Air Education and Training Command C-17 Field Training Detachment; organized, staffed, directed, coordinated, and budgeted resources to meet operations; and overseen aircrafts and facilities valued at $3.5 billion.
Colonel Williams served as seminar leader at National Defense University's College of International Security Affairs, Reserve Component National Security Course at Fort McNair in Washington D.C. He is a veteran of several military operations including Desert Shield and Desert Storm, Enduring Freedom, and Iraqi Freedom, just to name a few. He earned his master's degree in military operational arts and science from Air University's Air Command and Staff College in 2009. He will complete his doctorate in public administration at Jackson State University in Spring 2020.
He is past president of Jackson's Capital Club Board of Governors and has served on the CALS Dean's Advisory Council at MSU. He is a former member of the Mentoring to Manhood (M2M) Advisory Board, alumnus of Leadership Rankin, and life member of Phi Beta Sigma Fraternity, Inc., the National Guard Association of the United States, and the Veterans of Foreign Wars. Colonel Williams and his wife Sharon have two daughters: Shayla, an MSU graduate, and Zoe, who is currently attending Xavier University in New Orleans, Louisiana.