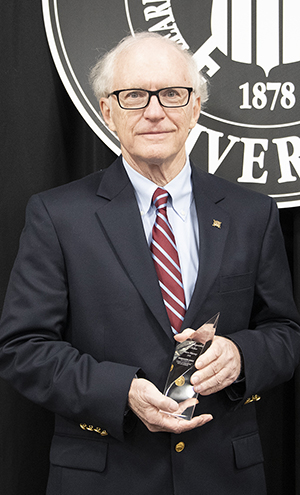 Dr. Steve Murray
Dr. Steve Murray worked as an msu Extension Service specialist in both the Department of Community Development and in the Food and Fiber Center for more than 20 years, before retiring in 2003. Much of that time was spent in the Department of Agricultural Economics.
He earned his bachelor's and master's degrees in economics at MSU, in 1970 and 1972, respectively. With the assistance of Dr. John Waldrop, Murray entered the doctoral program in agricultural economics at Oklahoma State University, finishing in 1978.
In addition to his time at MSU, Murray spent several years working on the Mississippi Choctaw Indian Reservation in Neshoba County, where he met Chief Phillip Martin, who became a mentor. Murray continued to work with Chief Martin on many projects until the chief's death in 2010. In 1973, Murray was tasked with recruiting nurses to the Choctaw Indian Reservation. One of his recruits would become his wife, Linda, who is a member of the Oklahoma Choctaw Tribe. He also spent several years on agricultural volunteer assignments and short-term consultancies around the world. Some memorable assignments were in Lebanon, the Democratic Republic of Congo, Kyrgyzstan, and Bulgaria.
The Murrays, who have been married 44 years, have two children and three grandchildren and live in Philadelphia, Mississippi. Steve and Linda have established an endowed scholarship within the College of Agriculture and Life Sciences.