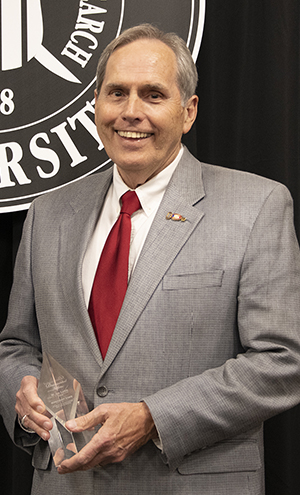 Dr. W. Joe Lewis
Dr. W. Joe Lewis earned his bachelor's, master's, and doctoral degrees from MSU, in 1964, 1965, and 1968, respectively. He is recognized worldwide for keynote discoveries in the science of pest management.
He came from humble beginnings as a sharecropper's son in south Mississippi and would go on to finish through to his Ph.D. by age 24. From 1967 until his retirement in 2006, he was a research entomologist in the USDA ARS, Tifton, Georgia, with joint faculty appointments with the University of Georgia and University of Florida. He served as an elected member of the City Council and Vice-Mayor, City of Tifton for 16 years.
Capstoned by the 2008 world renowned Wolf Prize in Agriculture, Lewis' honors and awards include the Founder's Memorial Lecturer Award by the Entomological Society of America; Honorary Visiting Professor, University of California, Berkeley; E. T. York Distinguished Lecturer, Auburn University; C. P. Alexander Distinguished Lecturer, University of Massachusetts; USDA's Agricultural Research Service Outstanding Scientist of the Year; received Special Congressional Recognition for Outstanding Achievement, Service and Public Distinction; Chemical Communication Award and Prize, Jean-Marie Delwart Foundation (conferred in Brussels, in conjunction with the Royal Academy of Sciences of Belgium); and an Invitational Fellowship for Research by the Japan Society for Promotion of Science.
He and his wife Beth have two children and four grandchildren. He currently is president and owner of Creative Initiatives, LLC, implementing research and educational programs in cooperation with school systems, and local and state governments.