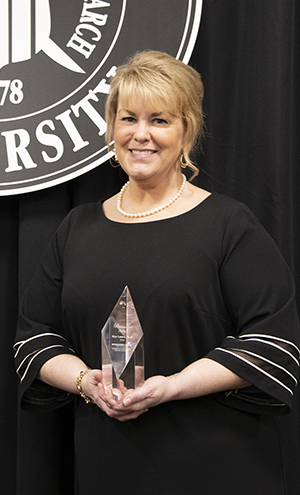 Dr. Ryn Laster
Dr. Ryn Laster is a four-time graduate of Mississippi State University and is currently the director of food safety and animal welfare at Cal-Maine Foods, Inc. She has been with Cal-Maine for over 20 years.
After earning a bachelor's degree in English from MSU in 1991, Laster entered law school and quickly decided it was not her calling. She found her passion in MSU's Department of Poultry Science and stayed to earn a bachelor's and a master's degree in 1993 and 1997, respectively. After living and working in Nashville, Tennessee, and Hattiesburg, Mississippi, Laster moved back to her hometown of Raymond, Mississippi, and began her career at Cal-Maine Foods, Inc. While there, she began work on her doctoral degree, earning a Ph.D. in poultry science in 2008.
Laster regularly attends on-campus events, serving on the advisory board of the Department of Poultry Science, and remembers her time as a student at MSU fondly. Besides her parents, she credits then poultry science department head Dr. Wallace Morgan and faculty members Dr. J. Paul Thaxton and Dr. Yvonne Vizzier-Thaxton as the biggest influences in her life and professional career. Dr. Vizzier-Thaxton was the biggest influence in her decision to pursue a doctorate and was Laster's major professor; she was also the first female chair of the Mississippi Poultry Association. Laster followed in her mentor's footsteps as the second.
Laster currently resides in Raymond. Her oldest daughter, Carlee, is a junior at MSU; her youngest daughter, Camryn, is a senior in high school and will begin her freshman year at MSU in the fall.