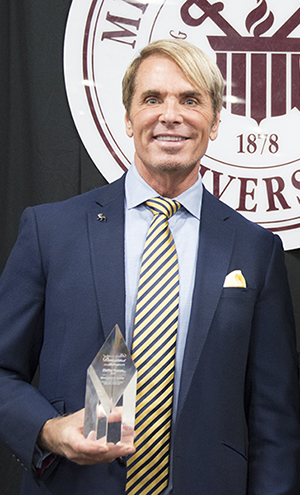 Phillip Watson
Department of Plant and Soil Sciences
Lexington, Mississippi native, Phillip Watson, is an author and horticulturist educating national audiences about garden design. Watson received a Bachelor of Science in Horticulture in 1976.
While attending MSU, he worked in the campus greenhouses and was a member of Phi Kappa Alpha fraternity and R.O.T.C.
After one term of graduate school at UGA, where he managed the greenhouses of Flowers, Inc., he moved to New York City, signed with a modeling agency, and started his own business, Phillip Watson Designs, Inc., where he began designing rooftop gardens.
After that, he owned a rare plant nursery in Fredericksburg, Virginia, living there for over twenty years while designing gardens and lecturing throughout the country. During this time, he was hired as a spokesman for Alabama-based Cottage Farms to promote their plants on QVC. He began his twentieth year on air in 2017 and was nominated for the QVC Excellence Award.
He has published two books, Pleasure Gardens (2010) and Garden Magic (2015), which chronicle garden design projects and tell stories about Mississippi. For the past six years, he has resided in West Chester, Pennsylvania, where QVC is located. During these years, he has judged The Philadelphia Flower Show and The International Rose Trials at Biltmore. He is also on the Garden Advisory Panel for Stratford Hall, Robert E. Lee's childhood home. He continues to design gardens, primarily in Greenwich, Connecticut, and still enjoys speaking engagements and book signings.
Some of his notable garden designs include designs for Tommy Hilfiger, Jim Barksdale, singer Brenda Lee, the Freer Gallery of Art in D.C., and Essex House Hotel in NYC.