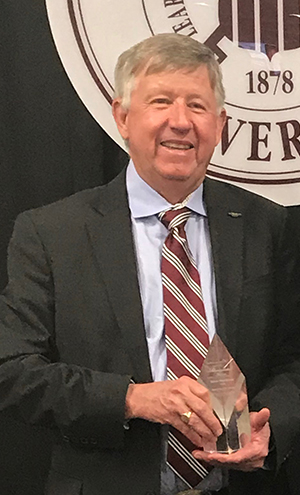 Sykes Sturdivant
Department of Agricultural and Biological Engineering
Glendora, Mississippi resident, Sykes Sturdivant, is a corn, soybean, and cotton producer and currently serves as president of Sturdivant Brothers Flying Service, Inc., an agricultural flying corporation. He is also a partner and marketer for Due West Grain, Co., a 1.7 million bushel corn elevator.
Sturdivant received a Bachelor of Science in Agriculture and Business from MSU in 1977. Upon graduation, he went on to receive a Master of Business Administration from the University of Texas at Austin in 1979.
Sturdivant is an engaged leader of the community. He is the elected past president of the Yazoo-Mississippi Delta Levee District, serving with that organization for several years. Within his role there, he was part of a team that mobilized first responders in the aid and clean-up of Waveland, Mississippi following Hurricane Katrina. He was also appointed as one of the original commissioners and former chairman of the Yazoo-Mississippi Delta Water District and spent 15 years on the executive committee of the Mississippi Valley Flood Control Association. He has also been a member of the National Cotton Council DuPont Sponsored Cotton Leadership Program, Sumner Rotary Club, Tallahatchie County Farm Bureau, and the West Tallahatchie Habitat for Humanity.