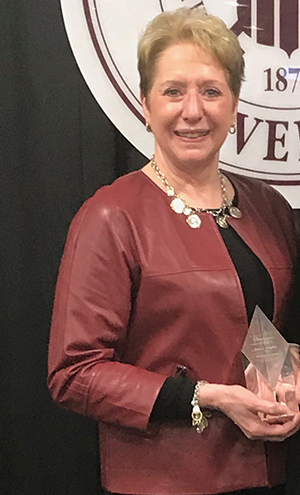 Patsy Fowlkes
Department of Biochemistry, Molecular Biology, Entomology, and Plant Pathology
Chattanooga, Tennessee resident, Patsy Fowlkes, spent most of her career in pharmaceutical sales. Fowlkes received a Bachelor of Science in Biochemistry from MSU in 1974. She conducted postgraduate research at the College of Medical Sciences, University of Tennessee at Memphis, where she was student body president, and at the Oak Ridge National Laboratory.
A large portion of her career was spent at Schering Plough until its acquisition by Merck, she spent time at Quintiles' as national sales director for the Johnson and Johnson team launching Zyrtec OTC. She recently retired from The Medicines Company as an engagement partner, managing the sales of hospital-based antibiotics. In 2008, Fowlkes was recognized as a "Rising Star" by the Healthcare Businesswomen's Association.
Fowlkes and her husband, Steve Brandon, support Mississippi State University in both athletics and academics. They are recognized by the MSU Foundation at the J. Charles Lee Society Level and by the Bulldog Club at their Champions Level. Their donation to the renovation of Colvard Student Union led to the naming of Fowlkes Auditorium honoring her father and uncles who were MSU graduates. For their support of women's athletics, they were honored with the naming of The Brandon Press Box at Nusz Park. They also endowed a scholarship in the general scholarship fund.
Fowlkes currently serves on the advisory boards for MSU Department of Biochemistry, Molecular Biology, Entomology, and Plant Pathology and the MSU Department of Chemistry.