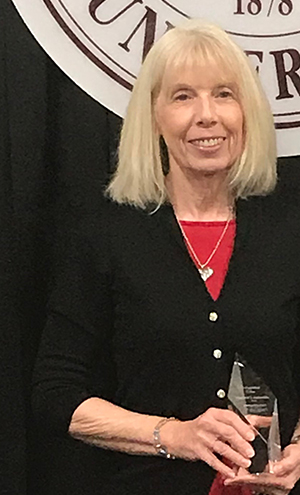 Margaret Applewhite
Department of Food Science, Nutrition & Health Promotion
The San Antonio, Texas resident currently serves as a senior program manager for Choctaw Staffing Solutions, a Native American company that specializes in managing healthcare contracts for the Department of Defense.
Colonel Applewhite received a Bachelor of Science in Foods and Nutrition from MSU in 1976. Upon graduation, she was selected for the U.S. Army Dietetic Internship at Walter Reed Army Medical Center and commissioned as a Second Lieutenant in the Army Medical Specialist Corps.
She enjoyed a 25-year military career in nutrition and dietetics that took her on many U.S. military installations, including a three year assignment in Germany. She also served as a U.S. Army War College Senior Service College Fellow for one year splitting the time between the Institute of Medicine; National Academy of Sciences; and at the Office of Disease Prevention and Health Promotion, Department of Health and Human Services.
While at MSU, she was a member of the Zeta Tau Alpha sorority. Being from out of state, her sorority sisters quickly became her extended family since her parents were assigned to Fort Benning, Georgia. Colonel Applewhite's father is a Mississippi State graduate while her mother graduated from Mississippi College for Women. In 2010, she and her husband, Larry, established the Colonel Margaret P. Applewhite endowed scholarship in the College of Agriculture and Life Sciences with priority given to those studying in the food and nutrition field.